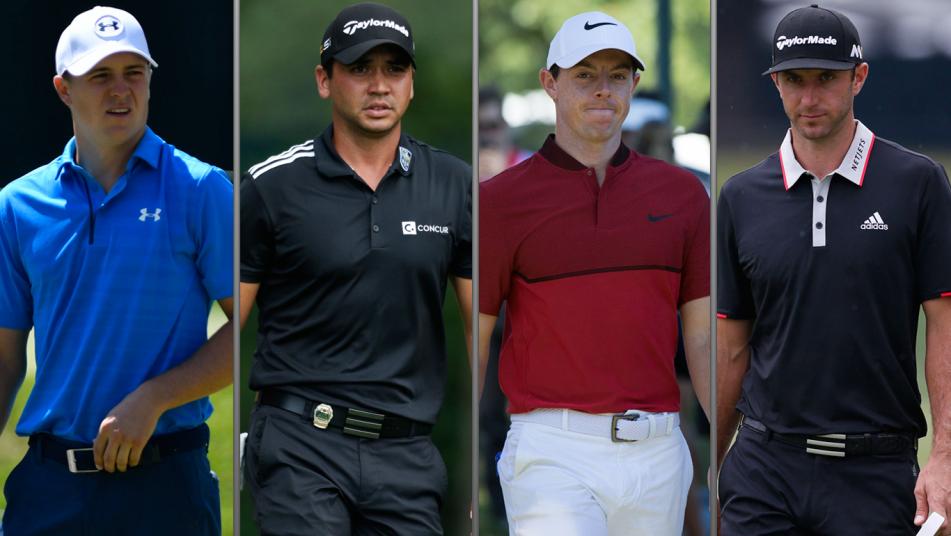 Over the last couple of season on the PGA Tour and in the world of golf, a shift has happened.  For many years, golf was defined by the face of Tiger Woods, perhaps the most massive star in the history of the game.  His domination had an effect that may never be quantifiable, as his presence on the golf course raised prize money and sponsorships to massive levels, and also brought casual fans to the game of golf.  But as Tiger has faded in the wake of personal and physical issues, a new era has emerged in professional golf.  Now, the game has many faces bringing excitement to the golf course in a new age for the game.  Let's take a look at some of these players and what you can learn from them to help your own game.
JORDAN SPIETH: True Grit
You don't often hear the term "grinder" and think of a young, 23 year old, 2-time Major champion.  But what golfers can learn from Jordan Spieth is how to never say die.  Even at a young age, Spieth has defined what it means to keep finding a way to get the ball in the hole.  If his driving is off, he keeps working hard to get the ball back in play; if he is not hitting his irons well, his putting saves him.  The lesson for you as a golfer is that you should always remember the point of the game: to get the ball in the hole in the least amount of strokes.  So if you are struggling with your game on the course, don't try and fix it out there – that's the worst thing you can do.  Instead, take a page from Jordan Spieth, and move the ball around with what you have, even if it means not hitting driver.  Embrace your inner "grinder" and take pride in the fact that you never quit out there.
JASON DAY: Focused Practice
Much is made of how Jason Day is an incredible driver of the golf ball and how hard he has worked to overcome a rough childhood in Australia to reach #1 in the world and win his first Major at the PGA Championship last year.  But what really makes me a big fan of Jason Day is how he practices.  Recently I saw a story from a fellow golf professional about how Day was at his club for a day to practice, so the staff there was able to observe him working on his game.  What they witnessed was an incredible show of focus and drive, as Jason Day worked on his short game for hours on end.  But not only did he work at it, but on EVERY shot, for many hours, he went through his pre-shot routine and hit each one as if it was in real competition.  Not once did he grab another ball and just throw it down and swipe at it; instead there was a purpose in every swing Day made in the practice area.  In my mind, the lesson learned from this for the daily golfer is that quality practice, not unfocused quantity, has a much higher return on investment.  So take a page from the #1 player in the world and make your practice count.
RORY McILROY: Do It Your Way
It seems like Rory McIlroy from Ireland has taken more criticism in the last year or two than any other golfer.  The Irishman is a 4-time Major winner, and has been a force in the game for the last 5 years.  But in that time he has had to deal with many detractors who have said that his workout routine, which has changed his body from a chubby kid to a muscular, athletic young man, has been a problem and caused him to be inconsistent.  In today's social media world, everyone has an opinion and it's always out in the open.  But what I have always liked about McIlroy is that he laughs off criticism and continues to do it his way, even posting videos of himself working out hard, and poking fun at his critics.  The lesson here is that every golfer has to find their own path to improvement, and sometimes it may be different than everyone else in your group or at the range.  Who cares! Only you know how good you want to be and how hard you are willing to work to get there.  So look at young Rory McIlroy as a great example of finding HIS path to improvement and staying with it no matter what others say.  It's worked well for him and it can do the same for you.
DUSTIN JOHNSON: Trust Your Shot
It was a big moment when Dustin Johnson, one of the most talented and athletic players to every pick up a club, finally won his first Major at the U.S. Open at Oakmont his past June.  Johnson has had a history of close calls and high finishes at Majors in the past few years, but just always seemed to be one swing or penalty shot away from a victory.  When he finally raised the biggest trophy of his career, many looked at his prodigious length and much improved wedge game as the reason he won.  But in my opinion, one of the biggest reasons was his decision to switch to a "go to" shot off of the tee.  Johnson switched from his signature draw to a big fade off of the tee, eliminating one side of the golf course and giving him confidence to swing away and still use his length on a very difficult course at Oakmont.  The big takeaway from his win for my students should be to always have "your" shot, and never deviate from that shot unless you absolutely have to do so.  Too many people tell me that they want to work the ball left and right, but to me that simply isn't what the best players do, and it can bring into play the worst thing of all: the "two way" miss.  Great players have the ability to move the ball both ways, but in most cases don't do it unless there is a bigger reward or if they have made a mistake.  So take a page from "DJ" and find the shot that fits your eye and that you can repeat, and swing with trust and confidence.