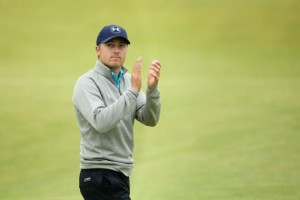 It's been an amazing run in 2015 for Jordan Spieth.  First he wins the Masters at Augusta in April, then, in shocking fashion, wins the U.S. Open at Chambers Bay.  His ability to navigate tough courses and manage his game, all without being particularly long off of the tee, is impressive.  Spieth putts well, know his strengths, and never gets out of his comfort zone by trying to do something he simply can't do.  Now, as we enter July, the spotlight will shine even brighter on him as he makes his way to St. Andrews in Scotland for the Open Championship, and then to Whistling Straits in Wisconsin for the PGA Championship.  Can he pull of the modern day Grand Slam?  I've been lucky enough to play both courses remaining on the list of Majors this year, so let's take a look at what lies ahead.
In lovely Scotland, Spieth will attempt to win the 3rd leg of the Grand Slam at the Home of Golf – St. Andrews Links.  In 2006, I played the Old Course and was mesmerized by the feeling of history that surrounds the course and the town. So many of the greats of the game have won there, including Nicklaus and Woods.  Interestingly, the course itself is not a particularly memorable layout, but the history makes if feel as if you are back in time.  Given the target nature of some tee shots, where you can't see the fairway and must blindly hit over a large dune to the fairway, it will be critical for Spieth to spend time with his caddie, Michael Greller, to learn the proper lines off of the tee so he can avoid the terribly deep fairway bunkers.  Amazingly, in his runaway win in 2000, Tiger Woods never hit it into a fairway bunker all week, which is incredible.  Having played at St. Andrews myself, hitting into the fairway bunkers is like taking a penalty stroke; all you can do is pitch out sideways and try and make a par the hard way.  But Spieth and Greller have proven to be a dynamic duo when it comes to preparation and it certainly will be high on the priority list to stay out of the fairway bunkers.  One advantage to playing the Old Course is that it will play hard and fast as most links courses do, so Spieth's somewhat shorter driving distance won't be a huge factor at all, as the ball will run out on the hard fairways for a long way.  Club selection, in particular what NOT to hit, will be critical.
Putting is one of the biggest strengths in Jordan Spieth's game, and it will be tested at St. Andrews.  Several holes share massive greens on the course, so it is not inconceivable to have putts of 80-100 feet on some holes if you miss the right area on the green!  Navigating those long putts, as well as putting the ball from off the green where there are many slopes and rises, will be key to scoring during the Open Championship.  There are many areas where the green slopes off into deep, greenside pot bunkers, most notably the "Road Hole Bunker" on hole 17.  If a player makes a mistake and gets too close to the knob on the green by the bunker, a bunker that is over 6 feet deep awaits, and in many past Opens there we have seen many players putt the ball into the bunker!  In 2006 I hit a shot out of that famous bunker, and was lucky enough to just barely get it up over the lip and onto the green with a swing that was more suited for a 200 yard shot than a bunker shot.  It will be paramount for Spieth to avoid the hazards and drive the ball in the right places to take home the Claret Jug.
If he is fortunate enough to win the Open Championship, Jordan Spieth will cross back to his home country and head to Kohler, Wisconsin for the PGA Championship at Whistling Straits.  This tough test, running along Lake Michigan, has held the PGA in 2004 (won by Vijay Singh in a playoff), and 2010 (won by Martin Kaymer in a playoff), and can play tremendously hard.  When I played there in 2004, I was struck by how beautiful the course was, with stunning visuals off of the tees and views that were second to none.  But I also found out first hand how driving the ball off of the fairways can be disastrous, given the high fescue rough and tilted terrain.  I knew I was in for a tough day when I ran into goats along a hillside on one of the holes!  If Spieth is to capture the Grand Slam, he will have to do so with precise driving at Whistling Straits, and a lot of patience, as the wind conditions can pick up and make club selection and starting lines very difficult.  In addition he will have to navigate a collection of par-3 holes that are as difficult as they are beautiful, with lots of length and steep banks running down into Lake Michigan if that will eat golf balls if the wind isn't judged properly.  Putting is always a factor in winning tournaments, but in my opinion, the winner at Whistling Straits will need great ball striking and a solid, but maybe not spectacular, putting game.  Jordan Spieth has also shown a great ability to deal with bad bounces and bad swings, as evidenced by his birdie on the 72nd hole of the U.S. Open after making an uncharacteristic double bogey on the hole prior.  He will need that patience at Whistling, as bad bounces and buried lies will be prevalent all week.  The player that manages these situations and minimizes the damage will be in the driver's seat.
So get your spot on the couch ready for the next two Majors of the season.  It will be fun, it will be dramatic, and if Jordan Spieth can hold on to win the Grand Slam, we will be mentioning his name amongst the greatest players ever.  Then we will all remember where we were the day we witnessed history.