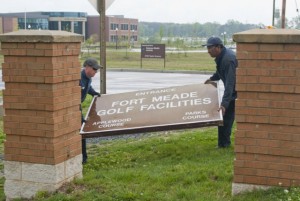 It was the summer of 1996, and I was a young college student who loved golf.  I honestly couldn't play enough, and what better way to play as much golf as possible and support my habit then working at a golf course?  As I looked for courses to work at, one facility stood out above the others – Fort Meade Golf Courses.  I mean, it couldn't get better thaworking somewhere that had TWO golf courses!  So I applied and got the job washing carts, cleaning clubs, and helping store bags in the bag room.  I worked hard, got paid okay, and played lots of golf, making many friends along the way.  So when the Courses at Ft. Meade closed a few years back I was really saddened.
I have fond memories of my time there, and lots of great stories.  The time a young man in uniform purchased a bucket of balls for the driving range, having never picked up a club before, and promptly went right to the first tee with the bucket, a confused look on his face as he arrived there.  The call out on the loudspeaker from Mr. Hoover, the resident starter and disciplinarian, could be heard over to Reese Road as he told the young man to get off the first tee and get on the driving range.  Those kind of stories happened often, as many young soldiers gave the game a try as a way of getting out and having fun.  They didn't always know what to do or where to go, but the folks who worked there understood the situation and were always helpful, never talking down to them.  That was the glue that held the place together in my time there – the underlying fact that we were all there for a much bigger reason.  We were there to serve active and retired military, who were giving or had given so much to our Country in defense of our freedom.  None of the little details mattered, just that we could help them all have a great day on the golf course.
One of the fondest memories of my time at the Courses at Ft. Meade was over July 4.  On Independence Day, many of the members there and the staff would grab a cart and drive out onto the courses at night to enjoy the fireworks over the base.  It was a cool time to be out there, surrounded by those who serve, celebrating our history.
As I moved on through the golf business, I have never forgotten how much fun I had there and the friends that I made. I still run into people who played there now, and some of them are my students, and the conversations always fall back into what a fun place the Courses at Ft. Meade used to be to play and hang out.  That's why I still believe that there has to be some way to build a golf course again that serves the folks in uniform on Ft. Meade.  It's been great that local golf courses have stepped up and provided discounted rates to the military, but it's simply not the same.  They need a place to call home, a place of their own that they can hang out and relax.  Having spent a little time learning how to teach Wounded Warriors and soldiers with PTSD, I can tell you that a place of refuge is something that can make a difference.  Meeting and speaking with these soldiers gives you a real perspective of what they are going through, and how everyday things like being around other people or loud noises can cause them anxiety.  A place that they can go to learn golf as a way to ease their pain would go a long way in providing some hope for them in the future, and it is honestly the least we can do for them.
Obviously, building a golf course and providing the services that go along with it is a big project.  No one disputes the importance of what has been built on the land that previously used to be the Courses at Ft. Meade.  But if there is a way to get golf back into the lives of the military personnel in our area then I hope it can happen.  They certainly deserve to have the good times and friendships back in their lives that those 2 golf courses used to provide.
On a final note, I would like to reach out to my readers to ask that if you are interested in supporting the 2015 Military Pro Am at Andrews Air Force Base on July 6, please contact me.  This is a great event that I will be playing in, as each team will be made up of one PGA Professional, two amateurs who pay a fee to play, and two active members of the military.  The event will raise funds for the Folds of Honor Foundation and the Middle Atlantic PGA Junior Golf Foundation, both incredibly good causes.  Some players are still needed, as are business sponsors.  It will be our way to give back, say thank you in person, and support 2 great organizations in the process.  I really hope that you can join us on July 6 at Andrews Air Force Base.  God Bless America!