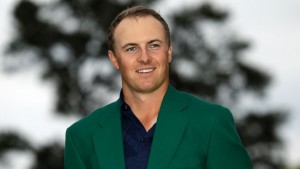 Another Masters week has now come and gone, and it was an amazing tournament filled with amazing shots, great comebacks, and in the end, an impressive first Major win.  Jordan Spieth collected the Green Jacket at just 21 years of age, and did it with the grit and determination of a seasoned veteran.  But within his victory lies some very valuable lessons for the everyday golfer to take away and apply to their own golf games.
BE TRUE TO YOUR GAME
Jordan Spieth won the Masters while hitting it below average relative to the field in distance off of the tee.  He understood that to win a tournament played on a long layout he needed to have balance and stick to being in play off of the tee, rather than go for more distance.  This approach led to a tournament record 28 birdies in 72 holes over the course of the 2015 Masters. Understanding your game and knowing when to go for extra yardage or take risks is critical to improved scoring.  If you are a long hitter, then use that advantage whenever possible. But if you don't have length with the driver, focus on making sure you put a premium on hitting as many fairways as you can and then having a razor sharp short game, just like Jordan Spieth.
UNDERSTAND IT ISN'T PERFECT
After a 36-hole record score of 14 under par, I thought it was really interesting to hear Jordan Spieth talk about how he actually hit the ball better in his second round 66 than he did in his first round 64.  That just tells you how hard (and goofy) golf can be at times.  The lesson learned here is that you need to understand that your ball striking may be just great one day and your putting isn't, then those skills may switch the next day and you will score better.  Accept that golf is about one thing: getting the ball in the hole in the least amount of shots.  Perfection isn't attainable, but it's more about the quality of your misses.  Sure, having some "misses" that lead to a 64 is a nice problem to have, but you get the picture.  Learn to grind it out and work your hardest on the days that golf seems like a foreign sport, and you will be a lot better off as a result in the long run.
GRIND TO THE END
The most impressive trait among many that Jordan Spieth has is his ability to keep grinding.  In an interview with ESPN, Masters great and 2-time champion Ben Crenshaw said that the first time he met Spieth, he "thought he was meeting Wyatt Earp."  What I think he meant was that Speith looks you right in the eye and is a serious competitor.  He flat out hates to lose.  On Saturday, as some of the best players in the game made their move to try and close the gap, Spieth double bogeyed the 17th hole, taking the wind out of his sails.  Then, after that trouble at 17, ended up with a tough pitch off of a tight lie next to 18 green to get up and down for par.  Many people would have taken a "why me" attitude as they stood over that shot.  But Spieth showed his toughness by hitting the pitch to 8 feet and then sinking a huge putt for par to save some momentum going into Sunday.  The bottom line: it's up to YOU how you want to deal with adversity.  You can lay down and let golf beat you down, or you can keep grinding like Jordan Spieth.
STAY IN THE MOMENT
There aren't many golf courses that the television viewers know as well as Augusta National, given the Masters is played there every year.  So that also adds a neat element of anxiety for the fans, as they certainly know the trouble that lurks there, especially on the back nine on Sunday.  Watching Jordan Speith negotiate these dangers was not only a testament to his golf game, but his mental game.  How easy would it be to think just a few holes ahead to standing on the green and having Bubba Watson put the Green Jacket on you?  But in those critical moments, Spieth maintained his focus on the shot at hand.  It was incredibly impressive to watch him go for the green in 2 shots on the par-5 15th hole, when so many people would have laid up short of the water.  But he went through his process with his caddie, knew where he could miss if he didn't make a great swing, and executed with precision.  While most of us will never know the pressure of a Major, most golfers certainly know the pressure of a personal best score on the scorecard and how it can affect the swing and your mental approach.  So take a page out of Jordan Spieth's book and block out any future in your golf game.  Forget there are any other shots, any other holes.  It's just what is going on right now that matters, and do everything you can to compartmentalize and keep calm as you work to hit the best shot you can.  Once it's over, then it's totally over and you can move on to the next shot and go through the same process and enjoy the personal best at the end.
The win by Jordan Spieth is, in a way, a win for the little guy.  He doesn't hit it the longest, he doesn't hit it the highest, maybe he isn't the best putter or long iron player. But he knows his game and works to be good at all skills, not just great at one.  Focus on your total game, stay true to your game plan, and fight hard to be mentally strong and watch the scores improve on your next big Sunday.