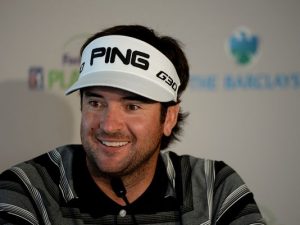 The unofficial opening of the golf season known as The Masters has come and gone too quickly, but the memories of a great week at Augusta National won't fade as fast.  Bubba Watson prevailed in an exciting week to capture his second green jacket in 3 years, but so many story lines made the first Major of the season an incredible one.  It was a fabulous start to what will certainly prove to be an interesting 2014 season that will not feature Tiger Woods for the foreseeable future.  Let's take a look at some of the story lines that materialized at The Masters.
SPIETH COMES OF AGE
It's difficult to reflect on life as a 20 year old and imagine leading The Masters with 11 holes to go, but that is just another week in the life of young superstar Jordan Spieth.  He continued his amazing play and has continued to capture new fans every week not only because of his sharp golf game, but his classy, polished demeanor and quick smile.  Spieth's game is built on a great foundation: he isn't particularly great at one thing, but just very good at every part of the game.  This certainly can teach us all a lesson that having a well-rounded game is the ultimate goal, not being a one-trick pony.  Take a page from Jordan Spieth and work on every part of your game as much as you can.
BUBBA & HIS PUTTER                                                                                                                                                                                     While it's incredibly impressive to watch Bubba Watson drive a golf ball, the announcers rightly made notice of the part of his game that REALLY won him the tournament, and that is his putting.  Up until late on Saturday, Watson has negotiated arguably the most difficult greens in golf without a three-putt.  This is incredibly impressive when you consider the size and severity of the greens at Augusta National.  Watson was very solid on putts inside 6 feet, as it is just accepted that players will have numerous putts of this length for pars during the week given the green speeds.  While he ended up winning by a few strokes and had an easy ride up the 18th hole for his second Major, remember what club got him there in the first place.
FLEXIBLE FRED                                                                                                                                                         There is just something about The Masters that brings the best out of Fred Couples, and this week was no different.  The 1992 Champion, at age 54, was within 3 of the lead on Sunday before falling back on the leaderboard.  It is always amazing to watch Couples swing a golf club, and people never stop marveling at his swing and how he can compete at Augusta National.  But the real reason is a something that can help everyone as they get older, and that is to work as hard as possible to retain your flexibility.  Couples still hits the ball 300 plus yards, but not only because of today's equipment but because his swing has remained virtually unchanged from when he won a green jacket in 1992.  The shoulder turn is still big, and the speed is still very high.  So work on your flexibility with a certified trainer to maximize your body and to make sure those precious yards off of the tee don't' disappear as you get older.
TRUST YOUR SHOT                                                                                                                                                                                     Bubba Watson indeed won because he putted great when he needed it most, but you can't deny the power and creativity off of the tee that helped set up the approaches into the difficult greens at Augusta.  But the most impressive part was his trust in his left-handed fade that just ate up the predominantly right-to-left shaped holes at The Masters.  This is a valuable lesson for all players that in a time of pressure or when you are on the golf course you shouldn't be searching for a shot shape.  Rather, whatever shape has come to you that day is the one that should be played as it is repeatable under pressure and that is the most important aspect.  If you can repeat it and know that it will only curve in one direction, that is a powerful ally in your golf game.  So take a page out of Bubba Watson's book and embrace your favorite shot shape, pick your target, and let it fly without fear.
ENJOY THE WALK                                                                                                                                                                     Few walks in golf can be as captivating as the walk up 18 at Augusta National when the tournament hangs in the balance.  But on Sunday at The Masters this year, the Champion already had both arms in the green jacket and was free to enjoy every step.  Imagine walking up those lush fairways, tipping your cap to the crowd as they shout your name and cheer for you.  That is what Bubba Watson experienced this year, rather than the continued pressure of going to a playoff as he did in his first victory in 2012.  Even in this moment there is a lesson learned for all of us.  That lesson is that golf is a difficult game, but it is still a game that needs to be enjoyed.  Work to make sure you give everything you have on every shot, but once it is over allow yourself to exhale and forget the bad shots.  Enjoy the sport for what it is, and for the beautiful setting that you play the game in each week.  It may not be Augusta National, but everyone can enjoy the walk up 18 and cherish the opportunity to hit just one more great shot.
See you on the lesson tee and for the next Major of the season, the United States Open at Pinehurst #2 in June.  It should be a great one, celebrating 15 years since Payne Stewart's thrilling 72nd hole putt to win there in 1999.