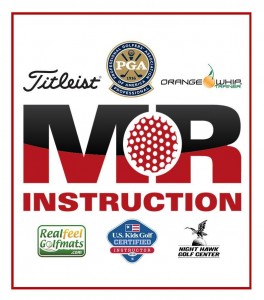 Amazingly the calendar has flipped to 2013, and while it is 32 degrees outside here in Maryland, it will soon be March and the hint of warm weather will be upon us.  It gets me thinking about the exciting things I have coming down the line at MR Instruction and how I plan on getting more value to my students and helping them get better in the New Year.
The big announcement for 2013 is the addition of TrackMan to my business.  My students will now have the opportunity to take lessons while having access to the leading technology for swing and ball flight analysis in golf.  TrackMan is used by the PGA Tour, R&A, USGA, and Tour professionals all over the world and it is proven to be the most accurate and simple to use technology on the market.  How is it going to help you as a student?  It will help you see what you are doing in your swing in a way that quantifies it and puts numbers and visuals to it, while also showing you how far you hit the ball and how far off line you hit each shot.  As a teacher, it gives me access to 23 different parameters that I can use to help you get the most out of each swing and truly focus in on the exact needs in your game.  In addition, I can put each student through the TrackMan Combine, which a 60 shot test of your game and allows you to see how far offline you hit each club and compare it to any other player in the world within the TrackMan database.  Then we can use this information to hone in on exact weaknesses in your game and accelerate the learning process!  It's an incredible tool that no other instructors in the immediate area offer, and I am excited about offering it to my students toward the end of February.
I am also looking into offering my students a statistical analysis website to use for tracking their games in 2013 so that we can also look beyond the full swing and get a complete game analysis.  This site will allow each person to put in easy to understand and easy to track stats so that we can find out where you are losing strokes each round and focus on those areas instead of wasting time on the lesson tee.  It's a hard look at your game that I would encourage each student to do in 2013 if you are truly interested in getting better.  More information coming on this front very soon…
I'm also excited about helping to grow the game by teaching SNAG Golf clinics at a local elementary school twice a week in the spring time.  I recently purchased the SNAG Golf kit for kids ages 8-10, and I know from using it at my previous job that it is truly great for building excitement and energy around golf.  I will also be expanding my Junior Hawks golf program for kids at Night Hawk Golf Center in 2013 as well, with clinics starting June 13 and running twice a week for 10 weeks.  It's all about bringing kids into this great game and hopefully capturing their attention and helping them love the game for a lifetime.
So as you can see, 2013 is going to be a great year for me – new logo, new technology, increased services, same fun attitude!  Let's get to work on your game!