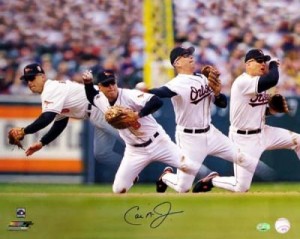 After some great vacation time in September, I thought back on one of my experiences and how it relates to golf.  As a part of my vacation, I spent a few days in the home of the National Baseball Hall of Fame in Cooperstown, NY playing baseball with my dad.  It's the 7th time I have been there to play the National Pastime, and it never gets old.  Playing on historic Doubleday Field and spending time in the quiet village there make for a great experience I would recommend for everyone who is fan of baseball.
But spending some time watching throwing motions and the swinging of the bat reminded me how much the game of baseball has in common with golf.  Every lesson that I give usually includes me asking a student what other sports they played.  In my mind, it's an essential question to ask, as sporting background can be critical to their improvement.  Many people seem to regard golf as a different sport and their athletic background doesn't shine through, making improvement a lot slower.  It's important to remember that the golf swing is an ATHLETIC motion!
So going back to baseball – how does it apply?  Well in baseball, the throwing motion is incredibly similar to a golf swing:  a shift to the right, a rotation back to the left, and a release to the target.  Pretty similar, wouldn't you say? Try it next time you go to the range – grab a ball and throw it out into the range and observe how well you make a shift, rotate, and release motion.  Student's are usually shocked with how natural that motion is for them, as most of us have grown up with at least a basic understanding of how to throw a ball.
I then put a golf club back into their hands and watch their weight shift (and many times, club head speed) improve tremendously.  Many times this change in motion also helps their ball flight as well, and it lends itself to more lag in the swing and the club coming more from the inside and eliminating the "lift and chop" motion that I see a lot.  All of a sudden a student can now hit the ball more powerfully with an ATHLETIC motion.
So the next time you go to the range and are struggling with your slice or just don't feel like you are hitting the ball powerfully, put the club down and pick up a ball.  Throw that ball down range like you are skipping a rock over a pond, and feel the proper motion.  Then put a club back into your hands and see your motion and ball flight improve.  You go from having "warning track" power to knocking it over the fence!
Go Orioles!