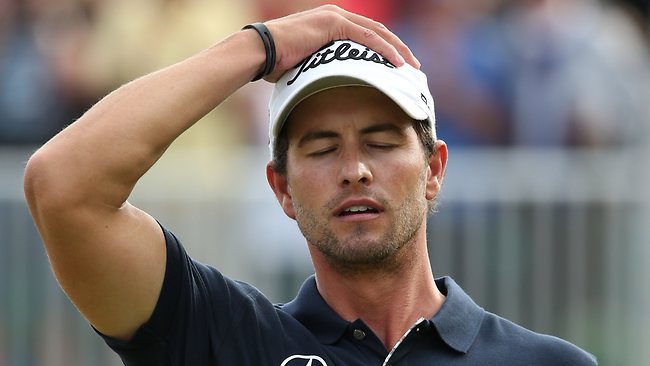 Watching the Open Championship meltdown of Adam Scott this weekend was difficult.  I don't think any other sport puts a person's failings more front and center than golf, as it is an individual sport requiring precision under pressure.  You have to feel good for Ernie Els, as he has always seemed like one of the good guys out on Tour, but it's tough not to feel worse for Adam Scott.
Many times a student will talk to me about feeling pressure on the golf course, and struggling to maintain their games as they near a personal best score on the golf course.  In essence, they have felt (albeit on a much smaller scale) the same pressure Adam Scott felt coming down the stretch with the lead at the Open.  Sure, their situation may not be for a first Major title and a $1 million check, but it's all relative to the situation and how much it means to a person.  In this case, even after playing so beautifully for 67 holes, Adam Scott ran into this pressure head on, and found out how difficult it can be to execute.
While I never have been in this situation myself on this scale, I can tell you that I have been in situations where I have had to hit shots under pressure, and there are a few things you can do to get better at it.  First, you must forget about shots prior or upcoming – only think of the shot at hand.  This statement gets used a lot and it is easier said than done, but it is true that you must not get ahead of yourself or let past shots enter into your mind.  Have a routine, stick to it, and let NOTHING interfere with that routine.  In addition, you have to "let go" and trust your swing.  I've mentioned this before in other posts and my newsletter, and it's an important one.  Most amateurs succumb to pressure because they tighten up and guide the ball to the target – pros who perform under pressure do the opposite.  They relax and swing freely.  But as we saw on Sunday, even the best in the world get tight and make bad swings/decisions under pressure.  It's a learning process even on the highest level, and all you can do is put yourself in those positions as often as possible to toughen up.  I also believe that it is important to have a "go to" shot that you can hit if need be on the golf course.  Jack Nicklaus used to say he could always trust his little "heel cut" fade to shoot out into the fairway regardless of the pressure; it may not have been pretty but he knew, in the toughest times, he could execute that shot. We have often seen that from Tiger Woods as well with his "stinger" shot – something that finds the fairway above all else.  This is important to have and can be a real security "blanket" to a player when the pressure is squeezing your insides on the golf course.
Adam Scott will be better off now then he was before, because now he knows how his body will react and what he does well and not so well under pressure.  He can work on fixing those things and become a better player as a result. I'll even go so far as to say he will win a Major by the end of 2013.