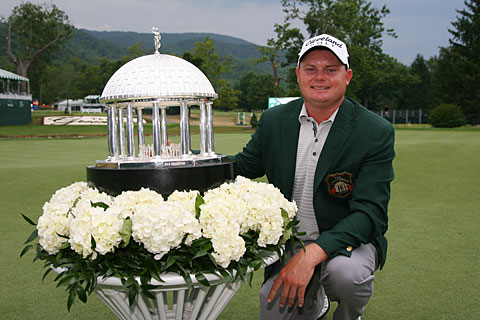 This past weekend, we saw some interesting happenings in West Virginia at The Greenbrier Classic.  First, the sponsors worst nightmare happened:  Tiger and Phil both missed the cut in the event, the first time that has ever happened.  In Tiger's case, it was a bit surprising, considering his strong effort to win at Congressional in the AT&T National.  In Phil's case, it was another disappointing week in a stretch that has seen him struggle with his golf swing and hit some terribly errant shots, as well as continue an alarming pattern of missing short putts.
But there was also some great magic at The Greenbrier.  Troy Kelly, ranked number 464 in the world and coming off of a hip replacement just 2 years prior, came within a whisker of winning his first Tour event, and showed everyone that on any given week, anyone on Tour has a chance.  He played very steady all week (including a 62), but the real great lesson for amateurs was in the playoff against Ted Potter Jr.  Facing a 20 footer for par, with Potter in close for birdie, Kelly stayed with his routine and calmly rolled in the 20 footer.  In this instance it would have been easy to "mail it in" and feel sorry for himself, but Troy Kelly looked at it the opposite way – I'm going to make this and put the pressure on my opponent to have to grind hard on his short putt.  He did exactly that and Potter, now facing a 3.5 footer for birdie that all of a sudden looked like 10 feet, missed his putt and the playoff continued.  Amateurs can learn from this and should always realize that until all of the balls are holed, it's never over.  Keep fighting and don't quit!
The other lesson from the weekend is all about perseverance.  A few years ago, on the Nationwide Tour, Ted Potter Jr. missed every cut in every event he played in that season – that's right – 0 for 24.  He made $0…nothing…nada.  Now, he is a Tour winner, exempt into the British Open and Masters, and has a 2 year exemption on Tour.  It's an amazing story and shows everyone how much mental fortitude it takes to play on Tour at the highest level.  But for the average player this lesson should be taken to heart – you CAN improve and get better if you stick with the process and believe in yourself.  I don't know Ted Potter Jr., but I'm willing to bet, after missing 24 cuts on the Nationwide Tour, it was tough to find anyone who believed in his ability other than himself.  But that's the thing – YOU are all that matters, because no one else will do the practicing or hit the shots when it really counts. Self belief, a good plan for improvement, and the proper work ethic will help you reach your goals, whether it be to win on Tour, or go from a 15 handicap to a 5 handicap.  It's always attainable with the right attitude and a plan.
QUICK THOUGHTS
-I watched the US Women's Open at Blackwolf Run in Kohler, WI – I have played that course and would highly recommend going out there and playing it, along with Whistling Straits and the Irish Course.  Incredible golf, and a great place to hit different types of shots because the golf courses are so different.  Just know Blackwolf Run is NOT as easy as NY Choi made it look this week, especially when she shot 65.  Great golf on her part – and another lesson in perseverance when she made triple bogey on Sunday, saw her lead cut to 2 shots, then proceeded to birdie the next hole and run away with the title.
-Amazing to see how Michelle Wie's game has really deteriorated.  After a 66 on Friday that put her in the hunt at the US Women's Open, she shot 78-80 on the weekend.  It's hard to believe that she was once considered "the next big thing", and the hype machine was in full motion.  You have to wonder if her parents influence on her career has stifled and pressured her into struggling with her game.  She is just too talented to continue this way, but it's just another example of how golf can sometimes overwhelm players if they tinker too much or lack confidence.