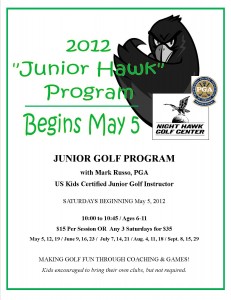 Over the last two months, I have started a small junior lesson program three times a month at Night Hawk on Saturdays.  While it has been a feeling out process for me on what is needed in terms of programs and offerings at Night Hawk, it was clear that another opportunity for juniors from ages 6-11 was still needed.  So after naming it the "Junior Hawk Program", I put it on the schedule to see what kind of a turnout I would have for the program.  In addition, prior to putting it on the schedule, I attended a US Kids "Certified Instructor" program in Philadelphia in hopes of learning new ways to teach kids and broaden my knowledge of junior instruction.
While I have been a golf professional for 15+ years now, my experience with junior golf has been all over the map.  I've done junior camps with large numbers of kids, and I've done camps with small numbers and with kids who really didn't necessarily want to play golf.  It was more about exercise and getting out of the house.  Every golf professional has probably experienced that type of camp – you do your best and try and make it fun, in hopes of hooking a few kids onto the game of golf.  But one thing always bothered me about my junior programs: it seemed like it was too much of the same thing, and that after awhile the kids would get bored and lose interest if we didn't move around to different topics or settings.  So the US Kids program was a chance to hopefully learn how to keep the kids engaged, and in the end it has been a truly great investment of time and money.
Although the attendance for my "Junior Hawk Program" has been a bit sporadic at first as kids get out of school, the "fun factor" has been absolutely great.  The games that I learned from the US Kids program, as well as purchasing the US Kids "Certified Instructor Kit" have made all of the difference.  We (and I mean me too, as the instructor is having more fun too) have had a great time, especially this past Saturday where we played a golf version of bocce around the putting green with special colored balls – it was a blast!  The best part is that the kids don't even realize they are learning, but I throw in a few tips and adjustments as we are playing, and they really pick it up well.  We even played without clubs first, tossing the balls instead of chipping them so that the kids could learn about trajectory and how to make the ball stop or run.
So it has been (much like this whole change to being a full-time instructor) a great learning experience for me.  I feel like the "Junior Hawk Program" is going to really take off, and the kids will hopefully be hooked on golf for life, and come see me for lessons as they continue to grow and learn about the game.