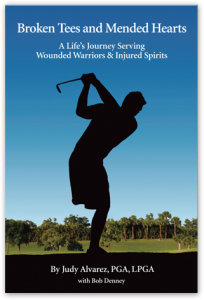 This past week I took a day off from teaching to go to Ft. Belvoir, an Army base in Virginia, to attend a class with other PGA and LPGA Professionals on how to work with Wounded Warriors. The class was taught by Judy Alvarez, PGA, LPGA, who is a nationally renowned teacher and educator with the PGA and LPGA, and has spent significant time teaching people with limb loss in all walks of life, as well as those with other injuries and many Wounded Warriors. These Wounded Warriors are members of our military who have returned home from battle with significant physical and/or mental injuries sustained in the fight for our freedom.  In some cases, these folks look like everyone else, having not sustained the limb loss that many people associate with Wounded Warriors, but are in a much deeper, darker place, as they work to recover from the mental scarring that takes place from seeing things most of us would never be able to comprehend.  They also fight depression that is incredibly powerful, especially for those who may have survived a near death experience but watched other members of their unit lose their lives.
But golf can save the day.
When I went into this class I wrongly thought about just teaching those with limb loss, and trying to find ways to help them play the game using the tools and physical attributes that they still have to make them enjoy the game.  In reality, there are many more Wounded Warriors who are suffering from a TBI – traumatic brain injury.  These troops have issues like neurological problems, memory loss, and difficulty dealing with others, particularly in crowds.  It is a sometimes agonizing journey for them to work back into society, and simple things like being able to hold a conversation can be excruciatingly difficult.
We were lucky enough to meet some of these Wounded Warriors, and I have to tell you that the experience was a moving one for me.  They were courageous enough to share their stories with our group, and how they have had a tough time getting their lives back.  But each person, regardless of the circumstances of their injuries, told us that in a time of depression or difficulty, golf gave them a lift and a light at the end of the tunnel.  Some had never played before, and others had played before their injuries, but the game gave them something to look forward to and was an uplifting time outside that gave them relief from their days spent at Walter Reed Hospital.
It struck me how courageous these people are, and also how important a simple game like golf can be in life.  Sure, it's just a game, but in the case of these troops, the game of golf has given them hope, enjoyment, and an outlet to enjoy life again.  It made me realize that we all need to acknowledge the terrible price some of these members of the military pay to defend our freedom, and that we all need to do our part to support them.
I will be volunteering at Ft. Belvoir in their Wounded Warriors program, helping teach these wonderful people the game.  It's the least I can do to say thank you for what they have sacrificed so that I can enjoy my life everyday and be with my family.
If you would like to help out, please contact Steve Greiner, PGA Head Professional at Ft. Belvoir Golf Club at greiner@pga.com