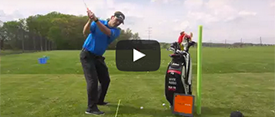 ONLINE LESSONS NOW AVAILABLE THROUGH HUDL TECHNIQUE!
If you would love to take a lesson and just can't find the time in person or have to travel a distance, don't worry – online lessons are available!  Take advantage of one of my programs to help your golf game get better and continue to get better from the comfort of your own driving range or golf course.  All videos and correspondence will take place through the Hudl Technique app on an iPhone or iPad, and each student will receive a video in return, as well as follow up support with me (amount varies based on program chosen). 
It's a great way to stay in touch and create a coaching relationship with students from all over, or maintain a current partnership if you are moving to a new location.  Email me with questions and let's get started on improving your game!
PAR / $69.00
Send me video of your swing from the front and down the line, along with an email on your directional and contact struggles, and I will send back a review with a voiceover, as well as drills for you to use to improve.  Includes 30 days of email support from the time my review hits your inbox.
BIRDIE / $179.00 / 3 Months
This level includes 3 months of email support and 3 sets of videos of your swing; I will provide drills, reviews, and practice ideas up to 3 times in this period to give you the best plan for improvement.   All I need to start is your first video and an email on your directional and contact struggles.
EAGLE / $499.00 / 12 Months
This is the top of the (on)line program – full access for 12 months with video reviews, practice plans and drills, and email support any time you need it.  Not sure what you are doing wrong? Send me a video and I will respond with help.  Need clarification? Send me an email and let's clear it up.  This is the absolute best deal out there for the access you are getting.  
So that's it!  The Eagle package may be paid in 2 installments via PayPal, while the Par and Birdie must be paid before a review is sent.  I will also provide a video on my website (coming soon) on how to get the Hudl Technique app, as well as the camera angles that should be used for filming.  The clock starts ticking as soon as I send your first review, and the clock is now ticking on gift giving season, so don't delay!